Discover comprehensive ENT care in Panvel at Sparsh Hospital, offering specialized treatments and expert care for your ear, nose, and throat health.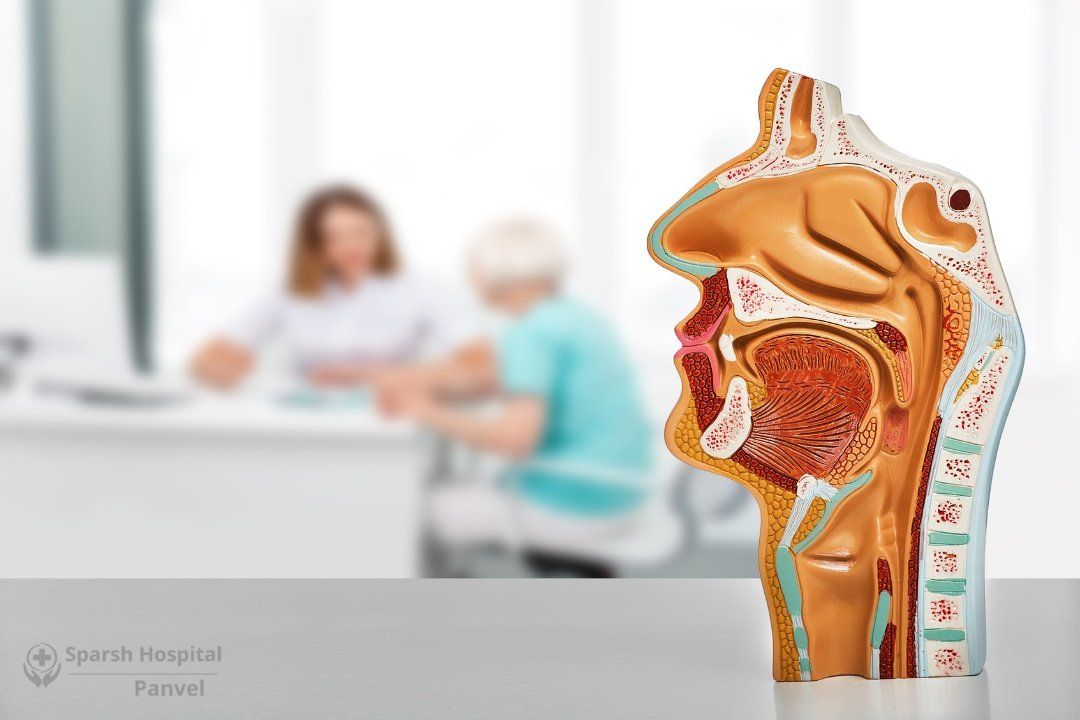 Welcome to Sparsh Hospital in Panvel - Your Trusted Hospital for Comprehensive ENT Care in Panvel
Sparsh Hospital in Panvel proudly stands as the best ENT hospital in the region, dedicated to providing exceptional Ear, Nose, and Throat (ENT) care.
Our commitment to delivering top-tier healthcare services has made us the go-to choice for individuals seeking professional and compassionate treatment.
If you're in search of the finest ENT hospital in Panvel, you've come to the right place.
What is Ear, Nose, and Throat (ENT)?
Otolaryngology, often referred to as ENT, is a highly specialized field of medicine focused on the diagnosis and treatment of conditions affecting the ear, nose, throat, and the complex structures of the head and neck.
In simpler terms, ENT, or Ear, Nose, and Throat, doctors are the experts you turn to when you have problems related to your ears, nose, or throat, and even issues in your neck.
They are here to help with a wide range of concerns, whether it's an earache, a congested or runny nose, or a sore throat.
At Sparsh Hospital in Panvel, our accomplished team of ENT specialists employs cutting-edge diagnostic tools and methodologies to ensure a precise and reliable assessment of your condition.
We firmly believe that an accurate diagnosis forms the bedrock of effective treatment, and you can place your trust in us to provide you with nothing short of meticulous diagnostic services.
Sparsh Hospital offers an all-encompassing array of ENT services, which include:
Ear Disorders: Our arsenal of treatments caters to various ear conditions, spanning from hearing loss to ear infections.
Nasal and Sinus Disorders: With expertise and precision, our specialists tackle sinusitis, nasal polyps, and an array of nasal and sinus issues.
Throat and Voice Disorders: We are equipped to address the likes of voice changes, swallowing difficulties, and a diverse range of throat-related concerns.
Head and Neck Conditions: Our team stands ready to manage the complexities of head and neck cancers, thyroid disorders, and other intricate conditions.
Why Choose Sparsh Hospital for Your ENT Care?
Specialized Expertise: Our team comprises expert ENT specialists in Panvel with in-depth knowledge and experience in treating a wide range of ear, nose, and throat conditions.
Cutting-Edge Technology: We utilize the latest medical technology and tools, ensuring accurate diagnoses and effective treatments.
Patient-Centric Care: At Sparsh Hospital, you are at the center of your care. We take the time to understand your unique needs and create personalized treatment plans.
Our Team of Best Otolaryngologists in Panvel
Our team of Otolaryngologists is a collective of seasoned and skilled professionals who provide not only expert care but also an abundance of compassion.
They remain on the forefront of the latest advancements in the field, ensuring that you receive nothing less than the best.
By choosing Sparsh Hospital in Panvel for your ENT needs, you are choosing the epitome of care.
Your health and well-being are our unwavering priorities, and we are dedicated to delivering the highest standard of ENT care.
Schedule Your Appointment Today
At Sparsh Hospital, we make it convenient for you to access the expert care you need.
Scheduling your appointment is just a few clicks away. Simply select a date and time that suits you, and our team will ensure you receive the specialized care you deserve.
Your health is our priority, and we look forward to serving you.