Pediatric Care at Sparsh Hospital in Panvel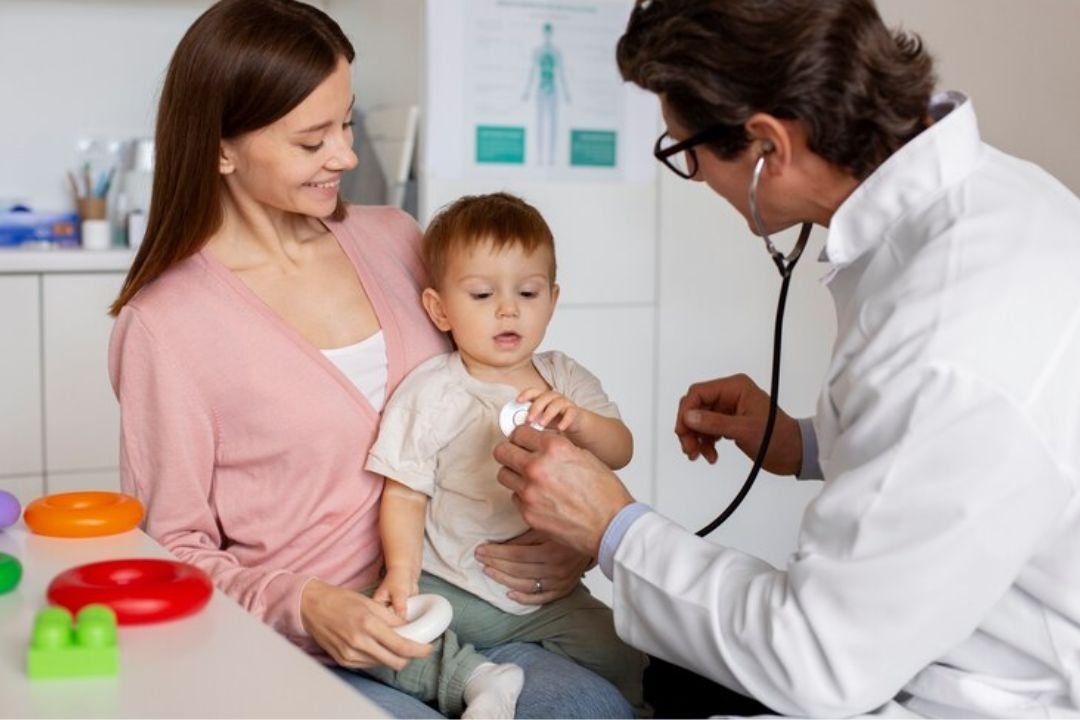 Pediatric Care at Sparsh Hospital in Panvel – Comprehensive Health Services for Your Child
Our Pediatric Department is dedicated to providing excellent healthcare services tailored specifically for children, from birth through their teenage years.
Located in Panvel, Navi Mumbai, our primary goal is to cultivate a friendly and supportive environment where your child's health takes precedence. We aim to ensure that parents feel comfortable and confident about their children's care when they choose Sparsh Hospital.
Pediatric care, often referred to as pediatrics, is a specialized branch of medicine that concentrates on the health and well-being of children.
The dedicated pediatric specialists at Sparsh Hospital are adept at addressing a broad spectrum of childhood health concerns.
This encompasses routine check-ups, acute illnesses, chronic conditions, vaccinations, and developmental assessments, ensuring that your child receives appropriate care at every stage of their growth.
Comprehensive Diagnostics
Within our Pediatric Department, we have a team of experienced and compassionate pediatricians.
Equipped with state-of-the-art diagnostic tools and techniques, they conduct thorough examinations and assessments to determine the best course of action for your child's health.
From managing routine illnesses to diagnosing complex conditions, their expertise ensures that your child receives the most suitable and effective treatment.
Available Treatments for Kids
At Sparsh Hospital, we offer a wide range of treatments to cater to the diverse health needs of children. Some of the primary services include:
Well-Child Visits: Regular check-ups conducted to monitor your child's growth, development, and overall health. During these visits, our pediatric doctors assess your child's milestones, provide guidance on nutrition, and address any concerns regarding their health.
Immunizations: We follow a comprehensive vaccination schedule to safeguard your child from a variety of diseases. Vaccinations are crucial for shielding children from illnesses such as measles, chickenpox, polio, and more, ensuring their ongoing health and safety.
Treatment for Childhood Illnesses: Our pediatric doctors provide expert care for common childhood illnesses, ensuring a prompt and complete recovery. Whether it's the flu, respiratory infections, or other common ailments, we are here to provide thorough support and medical attention.
Management of Chronic Conditions: For children dealing with chronic health issues like asthma, diabetes, and other ongoing conditions, our specialized care is tailored to effectively manage these ailments. Our team works closely with families to ensure children receive comprehensive support and strategies to cope with their conditions, promoting their well-being.
Why Choose Sparsh Hospital for Your Child's Health?
At Sparsh Hospital, your child's health is our top priority. Here's why you should choose us:
Expertise and Compassion: Our team of pediatric specialists combines expertise with compassion, providing the best care for your child's health and well-being.
Cutting-Edge Technology: We employ the latest advancements in medical technology, ensuring accurate diagnoses and effective treatment.
Child-Centric Approach: We understand that each child is unique, and we tailor our care to meet their specific needs, providing personalized treatments and emotional support.
Community Involvement: As an integral part of the community in Panvel, we actively engage in promoting children's health and well-being, ensuring our commitment to being a trusted healthcare resource.
Meet Our Team of Pediatric Doctors in Panvel
Our dedicated team of pediatric doctors comprises seasoned professionals who are not only knowledgeable but also compassionate and approachable.
They continuously update their knowledge and skills to ensure that your child receives the best care possible.
By choosing Sparsh Hospital in Panvel for your child's healthcare needs, you're choosing dedicated and expert care.
Your child's health and well-being are our unwavering priorities, and we're committed to delivering the highest standard of pediatric care in Panvel.
Book Your Child's Appointment Today
We make it easy for you to access specialized care for your child. Scheduling an appointment is simple and quick.
Just fill the form on this page with the date and time that suits you, and our team will ensure that your child receives the specialized care they deserve.
Your child's health is our utmost concern, and we're excited to welcome you and your family.