Physiotherapy is necessary after joint replacement therapy
Joint replacement surgery is a procedure of orthopedic surgery in which an arthritic or dysfunctional joint surface is replaced with an orthopedic prosthesis. It is important to get moving and functioning as soon as joint replacement surgery is done otherwise the following can occur: decreased blood flow to the area can negatively affect healing at the surgical site. Muscles can weaken if they go too long without use. Hence physiotherapy is necessary after joint replacement therapy.
Physiotherapy ensures that the joints and surrounding muscles are strong enough to support the implant and allow for your desired level of activity. Keeping the joint active after surgery enables a much faster recovery which gets you back to normal daily functioning and activity levels as fast as possible.
When should physiotherapy services start after joint replacement therapy?
Physiotherapy services after joint replacement surgery should start immediately in the hospital. However, it is important that once you have been discharged you continue physiotherapy to achieve the best possible recovery.
Recovery after joint replacement surgery
Most patients can return to a job within 6 weeks following surgery, depending on the demands of the position. If you do have a more demanding job that requires lifting, walking, or travel you may need up to 3 months for a full recovery. 
Effective post-operative pain management leads to a better and earlier functional recovery and prevents chronic pain. 
There are 2 types of physiotherapy:
Pre-Surgery Physiotherapy and Post -Surgery Physiotherapy
Pre-Surgery Physiotherapy allows patients to prepare for and recuperate from surgery safely under the supervision of a physical therapist. It is an individualized exercise conditioned program that trains the muscle in advance for the exercise they will need to do post-surgery. 
Post-Surgery Physiotherapy is crucial to regaining pain-free function and returning to daily activities safely and more quickly. Postoperative physical therapy safely eases patients back into daily activity and regular exercise.
Physical therapy after discharge
When you are discharged home, your physical therapy continues with progressive exercises to improve your strength, range of motion, gait, and balance. When you get home, continue the home exercise taught to you before discharge. If you follow the instructions properly and do what is said by the physiotherapist then you can be ready to return to your normal life with only a few limitations on high-impact activities when your physical therapy session ends. 
Benefits of physiotherapy exercise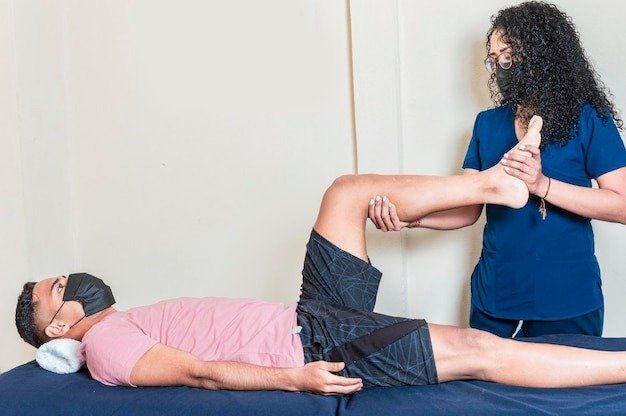 Reduced Pain
Faster healing
Better chance of recovery
Smooth transition of work
Better Co-ordination
Reduced inflammation
Joint strength and mobility are restored.
Personal freedom
Strengthens supporting muscles
Improving your balance
Regaining your normal gait.
Returning to normal movement and activities.
Sparsh superspeciality hospital in Panvel, Navi Mumbai offers you physiotherapy after joint replacement surgery.
Sparsh superspeciality hospital (Panvel, Navi Mumbai) has a 24/7 open support system with friendly staff and trusted special doctors
Types of physiotherapy done at Sparsh super speciality hospital
Manual Therapy : Joint mobilization and manipulation, soft tissue mobilization, mobilization with movement, and therapeutic massages.
Therapeutic Exercise : A fully equipped gym is available with cardiovascular and strength training equipment.
Taping : EMG biofeedback for retaining specific muscle activation/relaxation.
Electrotherapy : Electric Stimulation, pulsed magnetic field therapy, and ultrasound therapy.
Low-level laser therapy
Cervical and lumbar traction.
Intermittent compression and therapy.
Why Sparsh superspeciality hospital for physiotherapy after joint replacement surgery
Sparsh superspeciality hospital is a tertiary care hospital in Mumbai, India. The hospital's mission is to provide high-quality, affordable healthcare to all. Sparsh superspeciality hospital is committed to abiding by ethical codes of procedures and is responsive to the safety, welfare, and needs of all our patients and visitors. The rich and poor come here for quality care and no one has turned away for lack of funds.
Sparsh superspeciality hospital has one of the best infrastructures for physiotherapy after joint replacement surgery.